Well, not quite an underground blog! ........... it's a blog
all about
the underground!
and
that's
the kind of blog that I'm interested in!
The great thing about London, as far as I'm concerned, is it's mass transit system (a huge part of that Mass transit system is the Underground). Now, I know not everyone will agree with my statement here; but I have reasons why I make this statement.
First of all, we really need our underground --- Whoever hasn't suffered when tube strikes are in effect?
And second ---- I love the underground, and have always loved the tube, ever since I was a child.
Earlier this week, I was given a heads up about
this blog ('Going Underground's Blog')
, written by Annie Mole (blogging about the tube for 9 years).
Purely focusing on the London Underground, this blog was written from the perspective of a normal commuter.
The
Londonist
were kind enough to conduct an interview with Annie Mole for our benefit, so head down to
Londonist Out Loud: Annie Mole
to hear the full interview!
London Underground Digital Art
Those of you who have been following my other Blog,
Digital Art
, would have seen this picture already; but for the benefit of loyal readers of 'through the eyes of a Londoner,' I thought that I'd share this picture of an
'A' stock Metropolitan line train
.
See
"The Demise of the old 'A' stock trains,
" posted earlier in this blog for further information about the 'A' stock trains.
Until next time.......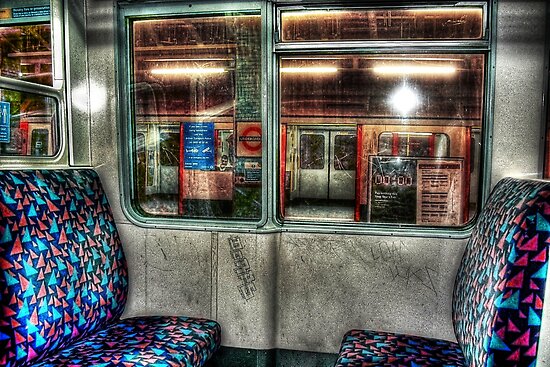 London Underground --- Metropolitan Line 'A' stock train